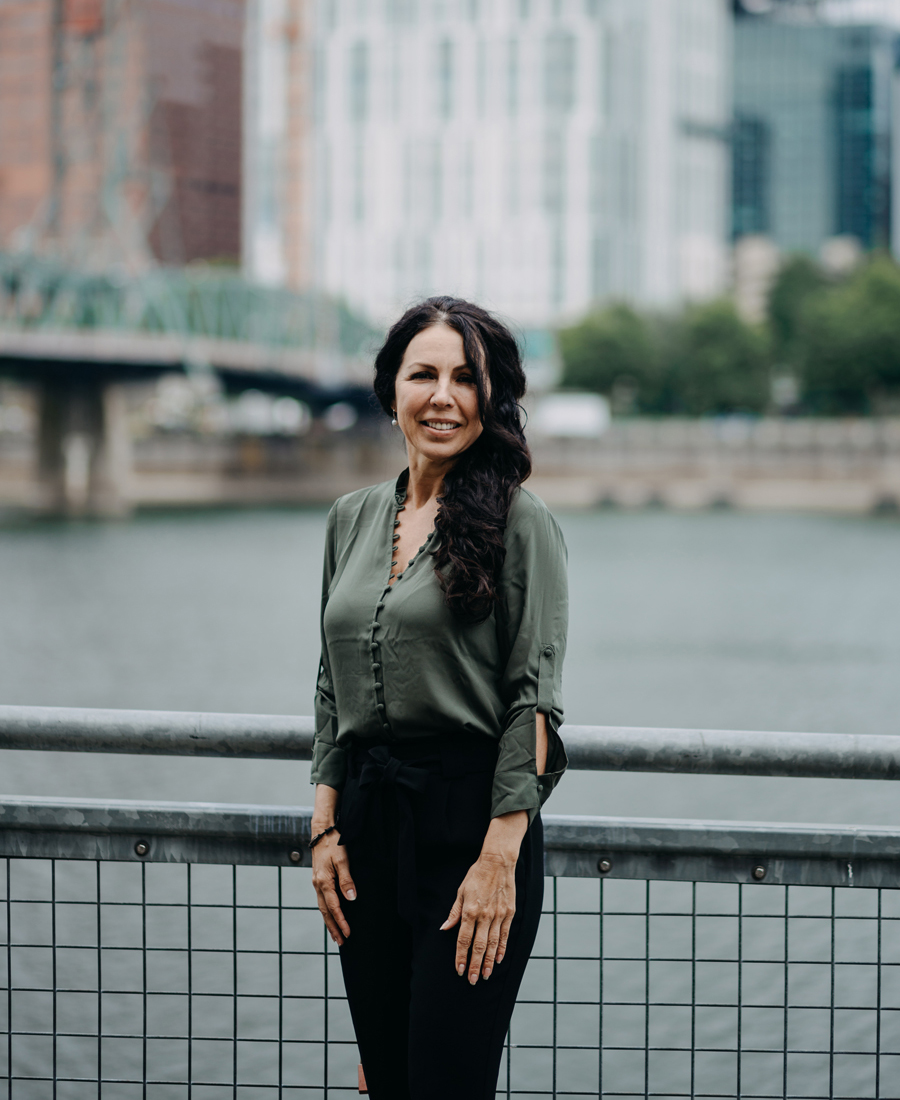 Where I'm From?
North Plains, Oregon (NP member for life!)
About Me?
I grew up on a farm, which instilled in me a strong work ethic and sincere dedication to my community. I enjoy getting to know people's stories and learning how others live a life different than mine. I'm also passionate about fitness. It's truly important to me, and I've learned to push myself in the gym with the help of my fantastic trainer.
My true passion is boating. I own a 37-foot Maxum SCR 3700 named "Slacker," moored in the Fremont area close to the Puget Sound. Traveling on the water is my real joy. It allows me to be free, enjoy the sea life, and provides some of the best views. This year, I was able to see a turtle swimming next to my boat. 
Why I Love Portland?
I call Portland the city with a small-town feeling. My favorite activities are hiking Forest Park, crabbing at Kelly's Brighton Marina, and fishing from the jetty at Barview. I also love the mild climate and how dedicated people are to interacting with the environment.
Pronouns: She/her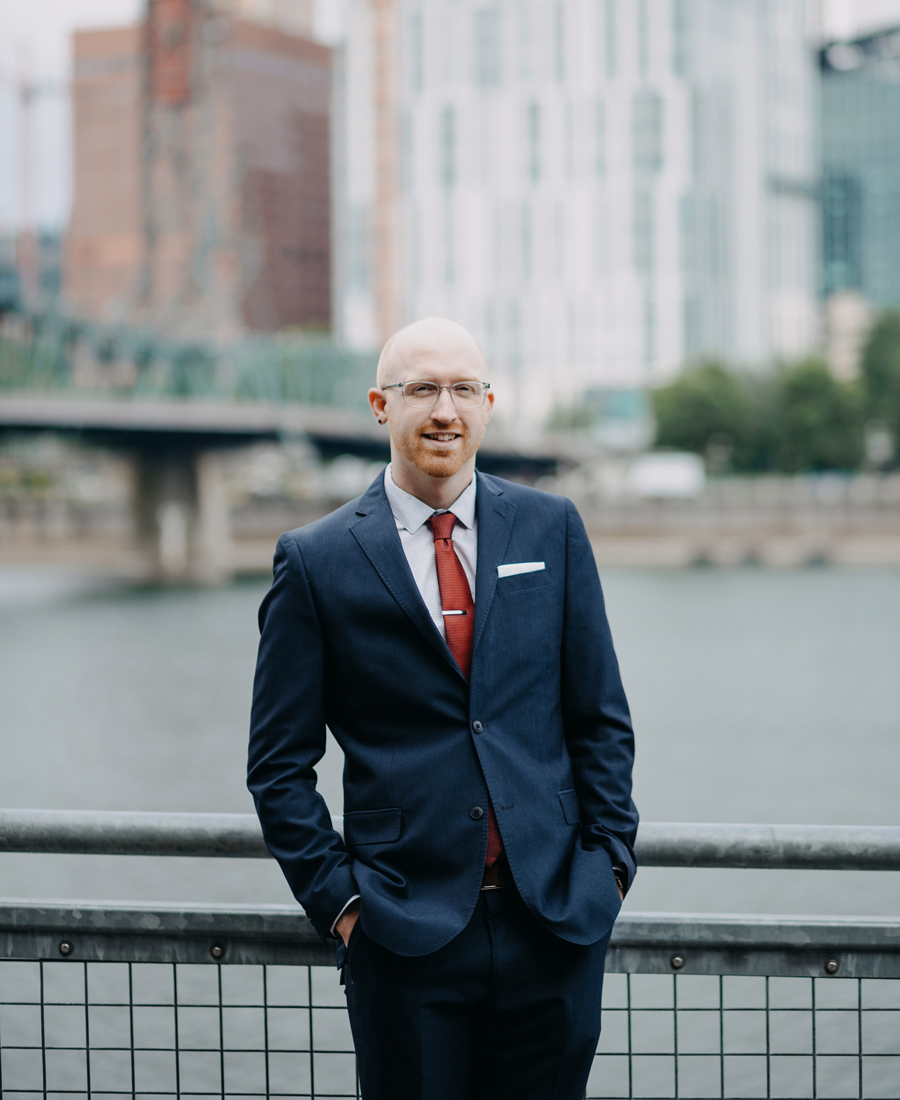 Jeremy Hill
Portfolio Manager
Where I'm from?
Corning, California (the Olive City)
About me?
I'm a big Philadelphia Eagles fan, computer nerd, father to my dog Zeee, and enjoy spending time with my best friend who also happens to be my girlfriend. I love Mexican food and I'm all about the tacos, preferably carne asada or el pastor. 
How I contribute to Rent Portland Homes experience?
I've worked in real estate for most of my life as my parents were real estate agents and managed a few of their own rental properties where I was introduced to property management. I started managing homeowners associations as a Community Manager from 2013 to 2015 until I moved to Rent Portland Homes as the Maintenance Coordinator in 2015 through 2018. Now as the Portfolio Manager, I manage our property portfolios by ensuring our Owners are taken care of and our properties are set to the highest of standards. As the main contact for Owners, I also assist with Owner-Tenant relations as well as support all other department staff at Rent Portland Homes.
Why I love Portland?
I love how green of a city Portland is aesthetically and internally. Portland is a very conscious and progressive city which makes way for innovation and keeps things interesting. Having access to year around local, fresh beer from Portland's breweries is a plus. I enjoy all the seasons, but when summer arrives and the sun comes out I love taking my dog Zeee out to Gabriel park.
Pronouns: He/him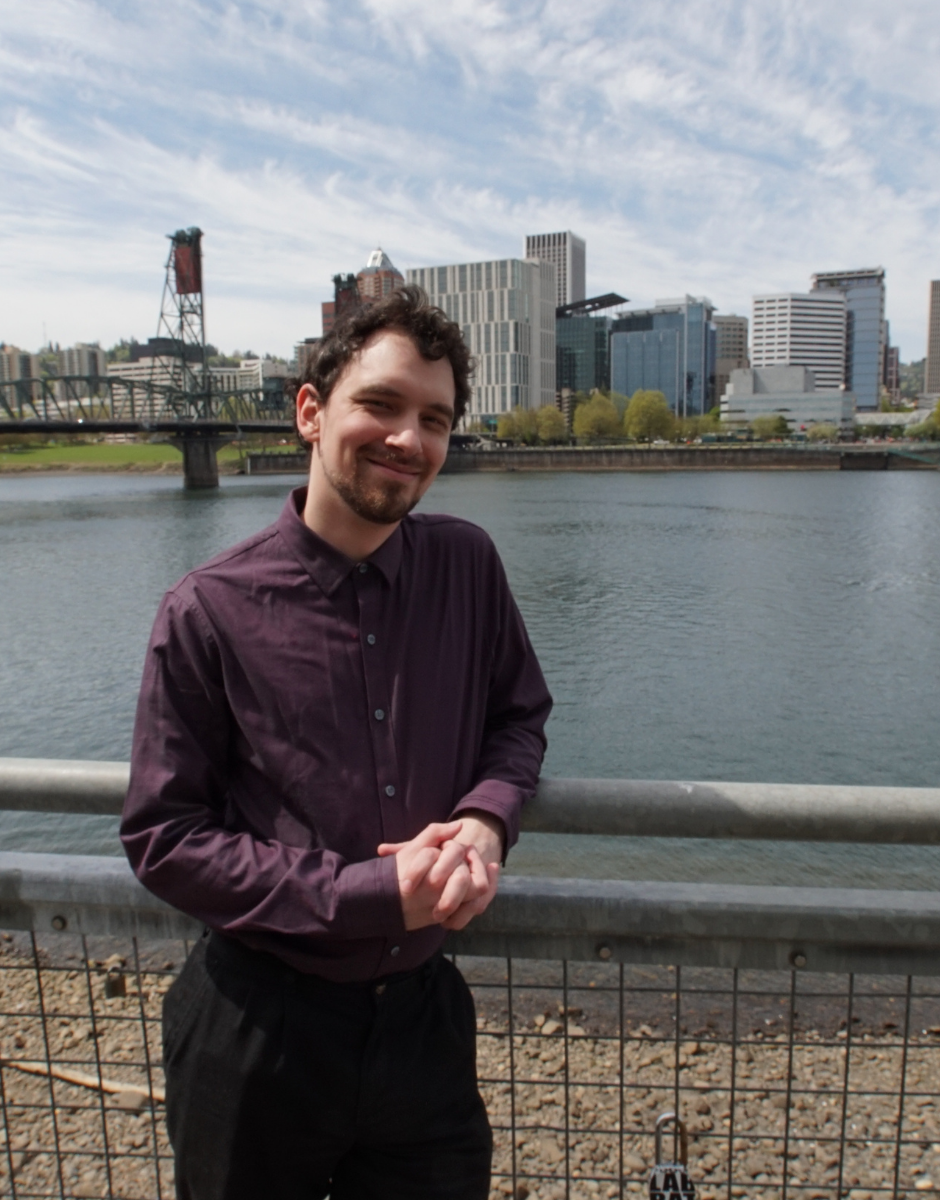 Jared Sipe
Accounting Manager
Where I'm from?
All over, but raised mostly in Oregon.
About me?
In my free time, I'm a gamer. I enjoy tinkering and dabbling with programs and coding. I spent a while as a realtor, but realized it wasn't the direction I wanted to go. I have two cats, but I shamelessly love one of them more than the other (just don't tell them that). My favorite colour is blue.
How I contribute to Rent Portland Homes experience?
Details are my expertise. As the accounting manager, my experience from other property management companies comes into play by allowing me to hone & fine tune our processes. My goal is for a seamless process for everyone involved – tenants, owners, and employees. My experience as a realtor (in a past life) lends itself nicely into working within Oregon laws for best procedures and smooth sailing.
Why I love Portland?
Portland is home. I spent a lot of my teen years growing up here and have grown to love the city for all its offerings. The festivals, events, food, and atmosphere are all great. I'd much prefer it not be so cold and wet, but that's why we have heaters, after all.
Pronouns: He/him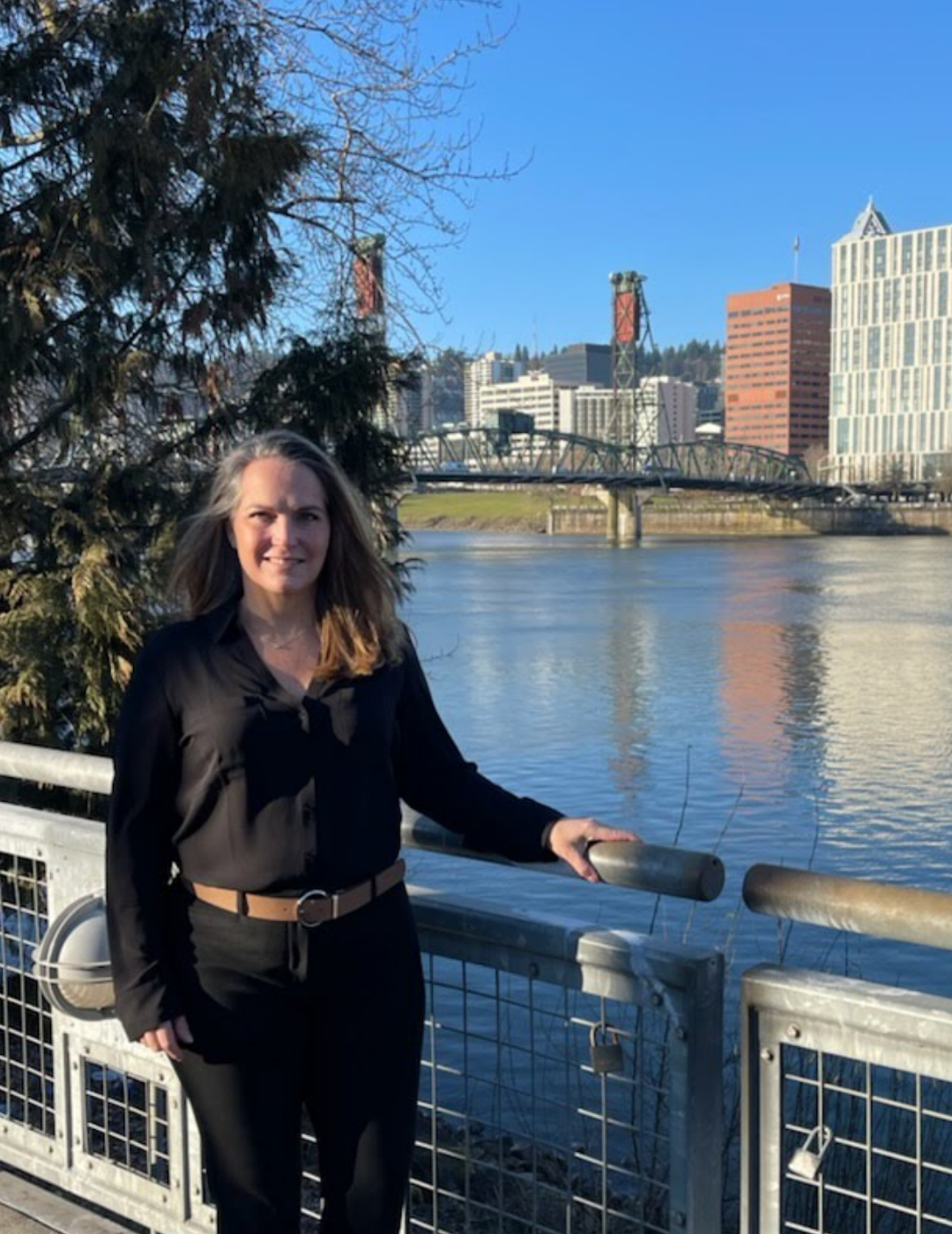 Christin Stanton
Business Developer
Where I'm from?
I'm a native of St. Louis, Missouri who relocated to Portland. I've been all over including Texas!
About me?
I moved to Portland with my husband who works in the medical field. We have two teens and two dogs. As a family, we ski, hike, and enjoy nature. My favorite time is on a paddleboard in the summer. I love exploring new foods and cultural experiences. Travel is a favorite when I can find the time!
How I contribute to Rent Portland Homes experience?
I've been in the industry for 20 years. I am energized by helping people and providing quality customer service. Though the face of customer service has changed in recent years, I strive to provide the best I can. I try to support all aspects of our work process – from the owners & investors to the tenants and vendors. It's a delicate balance, but I thrive in this intense environment.
Why I love Portland?
I love the environment and diverse community. I feel like this area provides a great experience for my family to grow and flourish. The fact that I can visit a coast in the morning, and end my day on a mountain hike makes Portland a unique and wonderful place.
Pronouns: She/her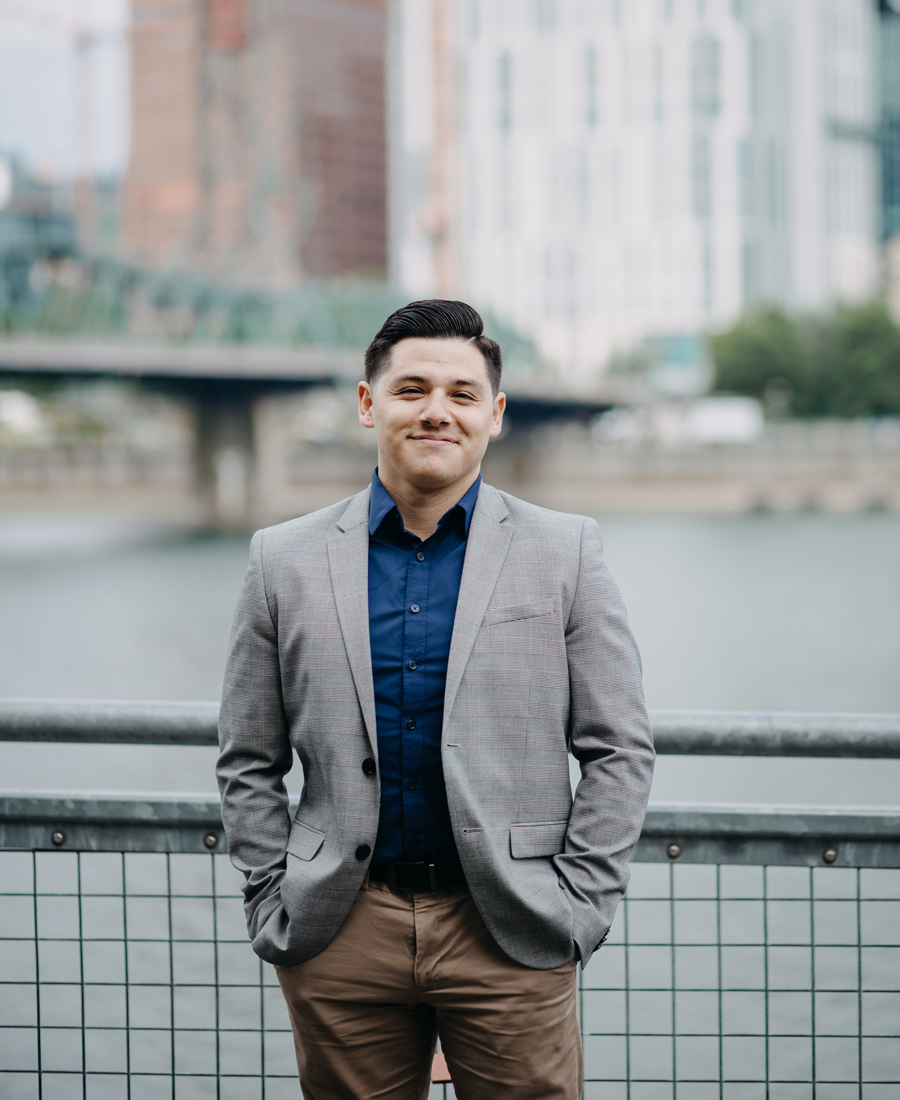 Jessy Sperry
Construction & Service Manager
Where I'm from?
Portland, Oregon
About me?
I enjoy exploring all of the different parts of Oregon because it provides all the seasons, there's a lot to do year around. You can catch me snowboarding in the winter and dirt biking in the summer. I like to go on hikes with my daughter Shiloh, and capture all the breathtaking views and experiences that the PNW has to offer.
How I contribute to Rent Portland Homes experience?
I contribute by providing my construction experience and knowledge to our maintenance/construction division as the Maintenance Coordinator. My experience in sales, customer service, and construction has enabled me to find our clients the best estimates with the most affordable and beneficial option. I enjoy getting to know our clients personally, building relationships with them over the years and supporting them to the best of my capabilities. As the Maintenance Coordinator, I also enjoy the creative/non-confining atmosphere.
Why I love Portland?
I love Portland for all of its diversity from the weather to the food, and the outdoor activities offered year around, there's a lot to experience. I also enjoy experiencing the city with my friends like finding new parks and breweries to visit.
Pronouns: He/him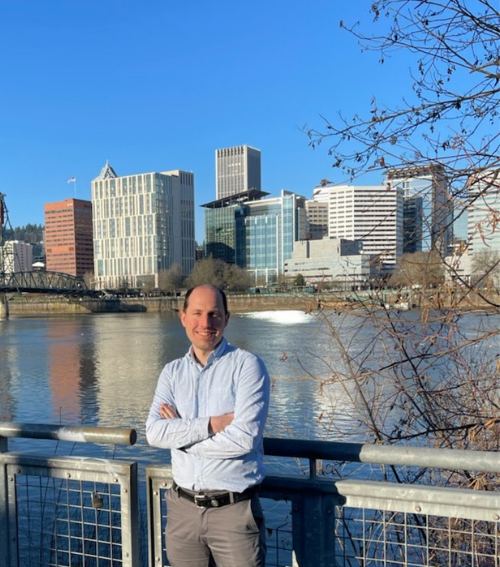 Nathan Lowe
Construction & Service Coordinator
Where I'm from?
I grew up in NE Portland and moved to Lake Oswego in middle school. 
About me?
I love traveling and living in new places.  After graduating as a "Rhodes Scholar" I did Peace Corps teaching in Ukraine and Crimea for 3 years where I learned Russian.  I also spent 7 years living in a beautiful mountainous village in Kyrgyzstan (central Asia) before settling back into the Portland area.  I have three amazing kids (ages 9, 7 & 3) that keep my wife, Amanda, and I busy with sports, playtime, Sunday school and pets (currently 2 birds & a bunny).
How I contribute to Rent Portland Homes experience?
I personally love a hands-on approach to things as I try to do much of my own maintenance of home and vehicles.  As a Construction & Service Coordinator, I work hard to get maintenance requests taken care of in a timely and cost-cutting manner.  Being a veteran landlord and licensed property manager myself, I know the importance of keeping tenants happy to ensure they take good care of your rental home for the long-haul.
Why I love Portland?
While I have traveled around much of the world, the Portland area has always been home.  From rooting for Oregon Ducks football while living in the South to working for the Multnomah County Library system, there is always a pull to this place where "young people go to retire".  I love taking day trips up to Mt. Hood and the Coast (not the beach) and camping, hiking, hunting and fishing in the woods.  It's nice to still have so few freeways (which I get to travel most of on a daily commute from West Linn) in a big little city that a 30-second report covers all the traffic in the entire Portland metro area!
Pronouns: He/him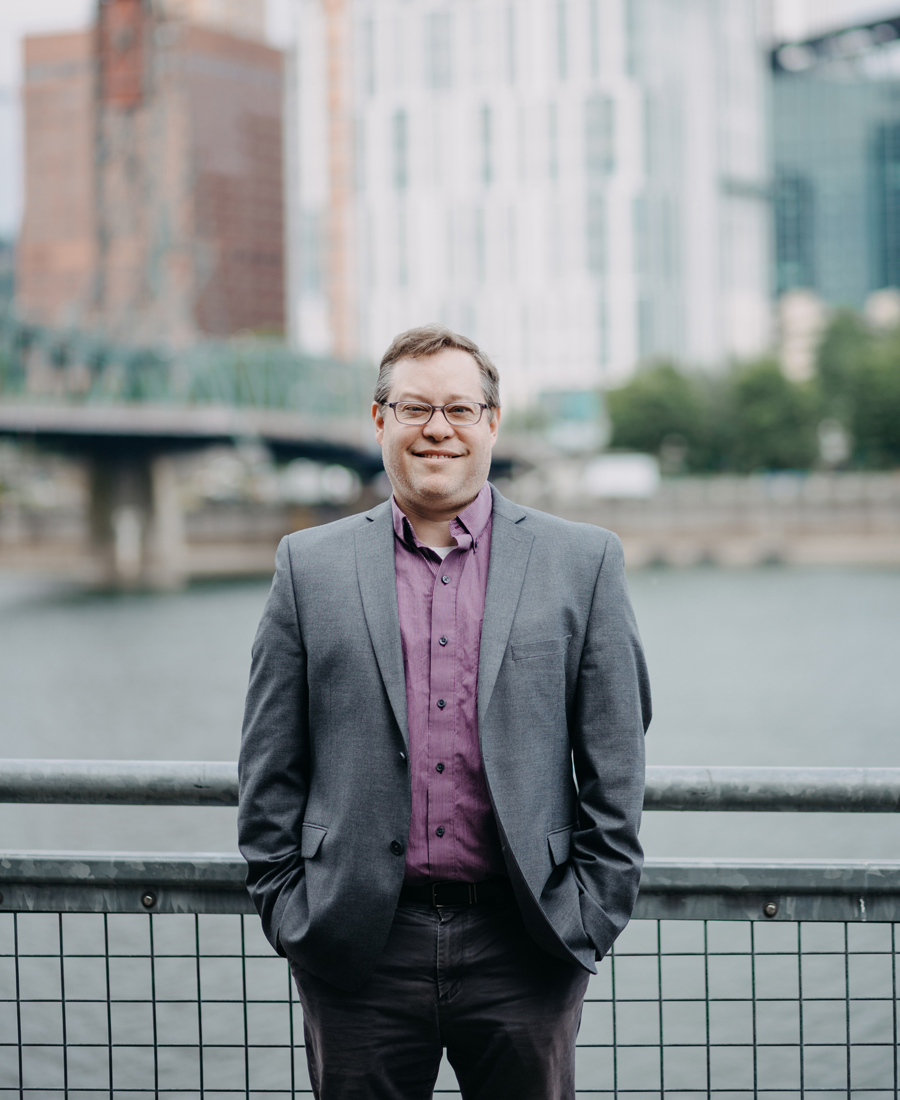 Mark Akey
Client Services
Where I'm from?
Hermiston, Oregon.
About me?
I like gaming, hiking, superheroes, and cats.
How I contribute to Rent Portland Homes experience?
I triple check information while we're onboarding new owners and tenants. I work with many varied aspects of RPH to make sure we have all the info we need to manage our clients homes to the best of our abilities.
Why I love Portland?
Lots of natural spaces, close to the coast.
Pronouns: He/him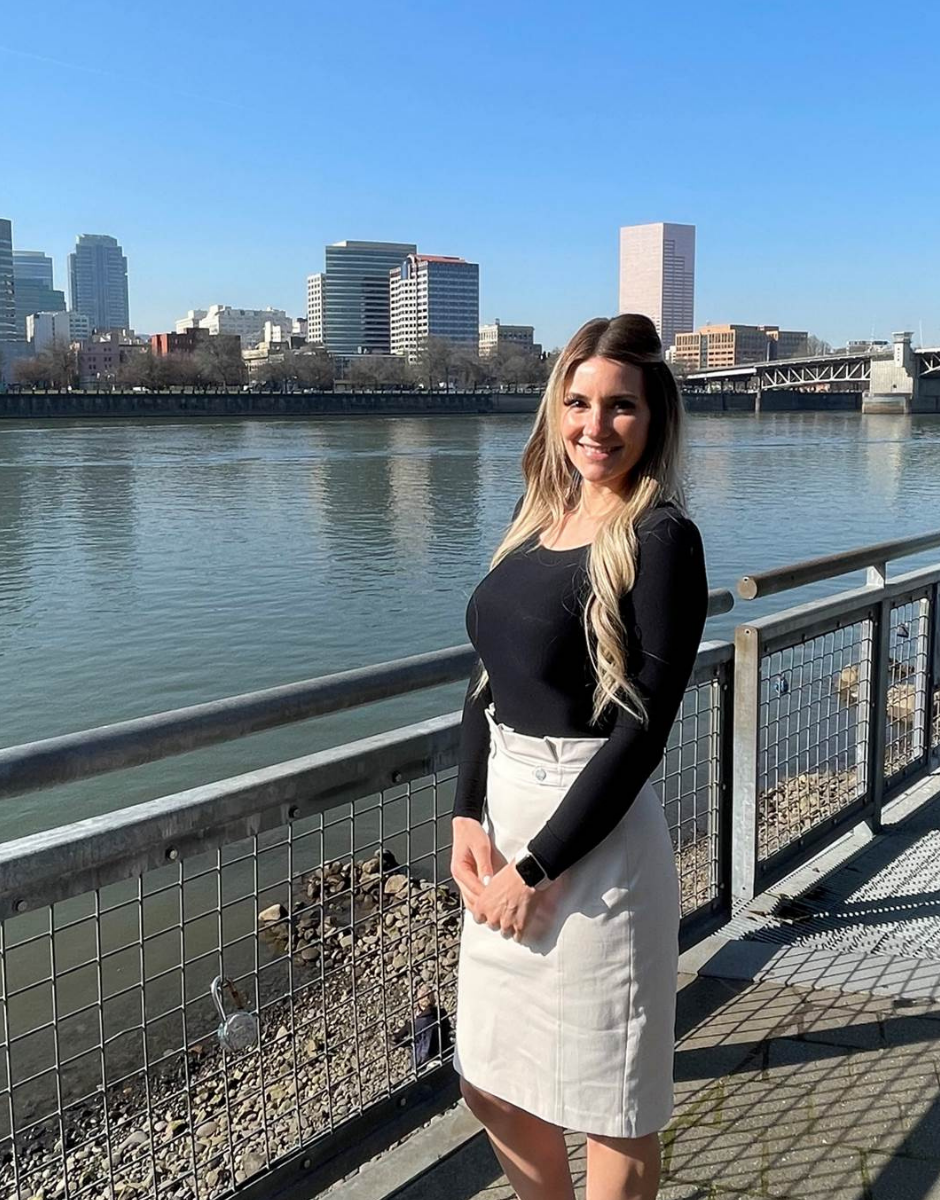 Jen Hess
Manager of Leasing
Where I'm from?
Portland, Oregon.
About me?
I am a mom to three amazing kids, Evan, Ella and Ava. I love watching my kids play sports, basketball is my favorite. Three of my favorite things are coffee, red wine, and good sushi. I love hiking, working out, running, being active, and outdoors as much as possible. I recently took up scuba diving and love to travel to different places to dive.
How I contribute to Rent Portland Homes experience?
I love meeting, talking to and helping people. Customer service and a knack for detail are my top priorities. I bring a very easy-going and fun personality to the office and am always looking to help in any way I can.
Why I love Portland?
I love the culture and vibe of Portland. I love that I am close to the coast, the mountains, and so much amazing hiking and outdoor activities. I am a huge Blazer fan and love going to basketball games. There is always something new and fun to do in Portland.
Pronouns: She/her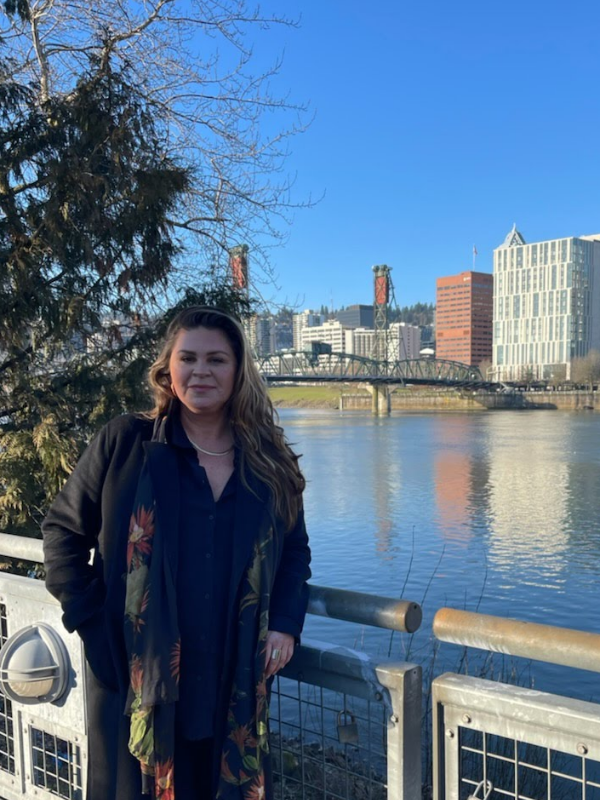 Jenniffer Mandemaker
Leasing Agent
Where I'm from?
Oregon.
About me?
I'm a sports fan – playing or watching. I'm not amazing at them, but I play volleyball & tennis. I follow the Trailblazers & Dallas Cowboys. I love to travel and spend time in the sun. I love my dog & taking her on walks. I've been to France and my love of France is endless! There's nothing like enjoying escargot at a French cafe. On the weekends I like to dine with friends.
How I contribute to Rent Portland Homes experience?
My knowledge and love for the city shines in my position at Rent Portland Homes. I get to explore new neighborhoods regularly, meet plenty of people, and help them find homes they love.
Why I love Portland?
Portland is home, I have family and friends in the area. I think it's a beautiful city with new areas to explore and learn about. How beautiful and green our summers are help balance out the grey, cloudy winters. I enjoy exploring the varoius restraunts, food carts, and other dining experiences to be found here.
Pronouns: She/her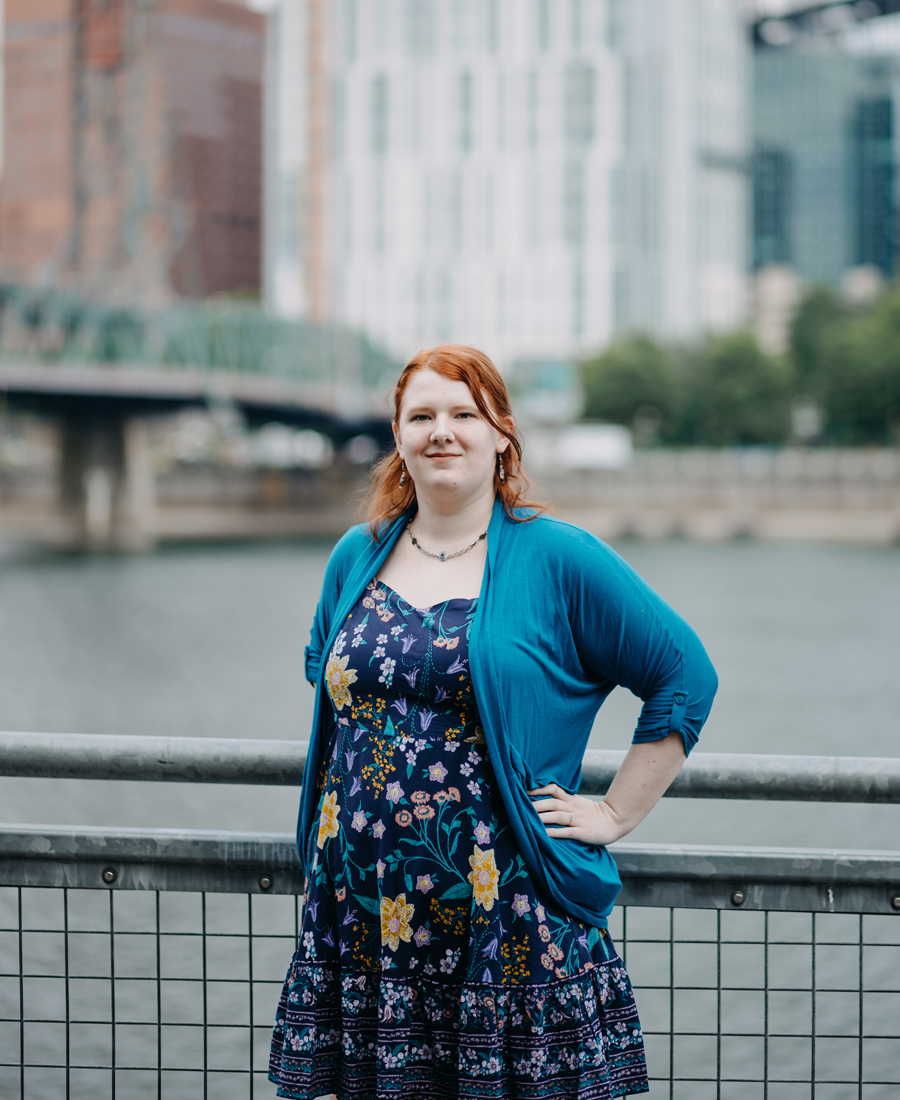 Cassandra Bibler
Director of Marketing
Where I'm from?
Oregon! Born and raised.
About me?
I'm a crafty geek who enjoys playing games, making things out of yarn, and weekly game nights. I have two cats who are both great & terrible. I completed my BAS at Oregon Institute of Technology and volunteer my graphic design & tech skills at my knitting guild and a local animal shelter.
How I contribute to Rent Portland Homes experience?
My contribution is my ability to pick up just about any task and figure out a way to get it done – whether that is setting up Google Ads, designing flyers, updating our website – or helping out tenants & owners with whatever comes up. I also have a habit of nesting – the office remains stocked with coffee, necessities, and small pops of humor because of my valiant efforts!
Why I love Portland?
I love the weather! The rainy grey days of autumn with brilliant changing leaves is my favorite time of year, and I don't even mind our "dreary winters". There's a huge community here for art as well, which I dabble in my spare time. 
Pronouns: She/her
Steven Grawrock
Property Accountant
Where I'm from?
I grew up in Aloha, Oregon. 
About me?
I'm an actor and artist whenever possible. I have an amazing wife and 2 boys that keep me grounded. Gaming, reading, and going to Seaside are some of my favorite things. At home I spend time with my family playing board games with our two cats. 
How I contribute to Rent Portland Homes experience?
I am a fun, vibrant person in the office who will make your experience with Rent Portland Homes Easy. I'm a great listener and good with technology. I'm here to do my best and help the office in any way I can. I look forward to working with you all.
Why I love Portland?
Portland's weather has always been a huge source of happiness. The clouds, the rain and all of it are a favorite. I love our local food cart scene, local comic conventions and the nerd community. Having the beach, and Mount Hood within driving distance means you can experience some of the best Oregon has to offer without a hassle. 
Pronouns: He/him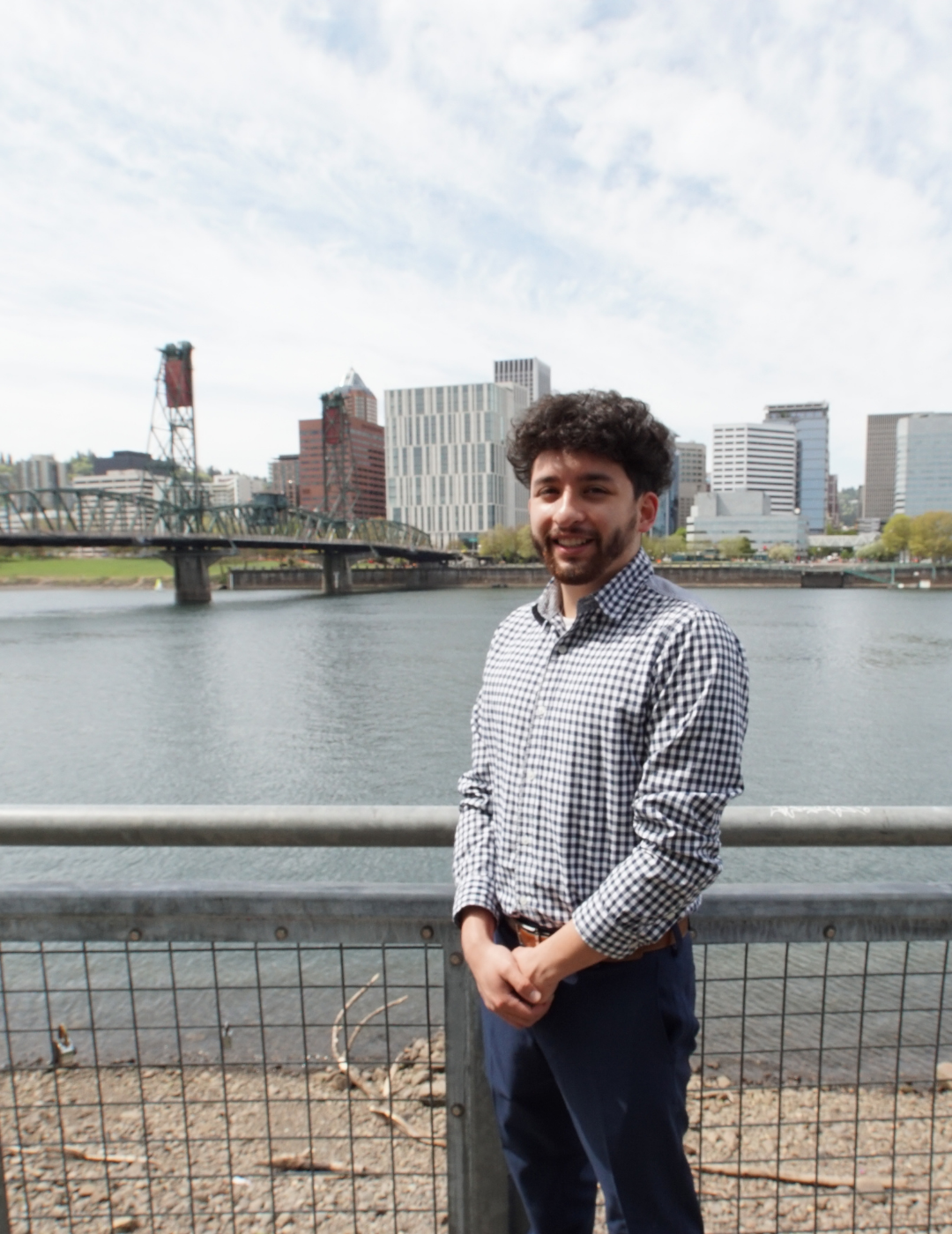 Enrique Chavez
Quality Assurance Inspector
Where I'm from?
Hillsboro, Oregon. I grew up there with my family.
About me?
In my spare time, I spend time with my family and create music. I play the guitar. Hang out with friends that I've made growing up in the area. I love tortillas, beans, and rice. I love spicy food and it's my go-to! I'm not against travel, but it's something I wouldn't mind doing to explore North America a bit more.
How I contribute to Rent Portland Homes experience?
My days mostly consist of move-in inspections, as well as general inspections. I do a lot of tenant outreach. My goal is to make sure all our homes are ready for move-in – which means being cleaned & all repairs completed. I work with owners occasionally but mostly work with tenants to smooth the move-in process. I accurately and consistently document all my inspections and provide them to our owners for a baseline of home status at inspection times. Tenants say that I'm very communicative and personable. I work very hard to make sure homes are perfect for moves in and tenant ready.

Why I love Portland?
I love it when the weather is nice – ideally spring weather. I like the rain, too. Portland feels like a big city, but it's not super big, and it's not a small town by any means. This is my home and having grown up in the area, I can't see myself not coming back to Portland time after time. Portland is always changing, so there's always something new and exciting around the next corner.
Pronouns: He/him
Home Owners
Request A Quote